Premium Line Softside Waterbeds

These softsides feature the best materials and workmanship possible, we don't cut any corners, you get the best here: Truly waveless systems feature our premium Hydro-Support watermattresses with our Patented Complete Liner and Unconditional Guarantee, Heater with thermostat control,
---
Our Premium Softsides come with Complete Liner Option and Unconditional Guarantee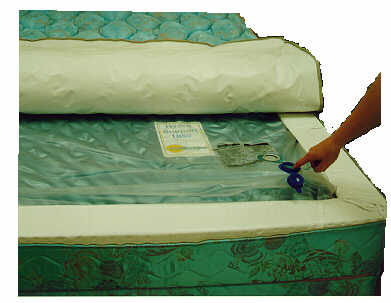 Our patented complete liner completely encases the inner watermattresses and forms a double wall mattress. If the inner watermattress ever develops a leak it will be completely contained by the clear outer watermattress. Conventional liners are not usually tall enough to contain the entire liquid contents if a leak should occur. Our complete liner gives you added security and peace of mind. Additionally, we offer a complete guarantee on watermattresses with the complete liner option for the first five years. We even warrant against punctures. The double wall gives added strength. If a puncture should occur, from kids, dog chews, anything, we will take care of the mattress under warranty. You not only get better peace of mind, you get a better warranty than anyone else offers.